Increasing hip strength and stability before surgery has been found to have some very favourable outcomes in recovery post-surgery. Faster recovery, a decreased length of stay in hospital are two key benefits. A decreased chance of requiring in-patient rehab and decreased risk of post-surgical pain are additional outcomes.
Give your body a head start on recovery by taking action prior to surgery.  This includes getting up out of bed and walking around much quicker than others. 
What can you do at home to strengthen your hip?
There are a few ways that you can strengthen your hip, all of which do not require a gym! These exercises can be done in the comfort of your home with little to no equipment. I recommend having your favourite music on in the background to make them a little more enjoyable.
Outlined below are the different ways that you can get your hips into the best condition prior to surgery.
Keeping these up after surgery means you may even save yourself a replacement surgery in the future. These exercises are great for maintaining and improving overall strength and help you to keep doing the things you love doing. 
Walking is an underrated exercise when it comes to improving hip strength. Whilst we are walking, the muscles around the hips have to work very hard to support and stabilise the pelvis.
Walking is also a great excuse to catch up with friends and family without feeling like you're exercising at all! Start with 10-15 mins of walking on a relatively flat surface, with a goal of achieving 30 minutes of walking per day (which may be split into 2 x 15-minute walks). 
5 daily exercises to strengthen your hip at home
The following exercises can be completed at home and are very easy to set up. All you will need is a standard chair (such as a dining chair) so that you are able to hold onto the backrest for support and balance.
Here's 5 simple exercises to improve your hip strength.
1.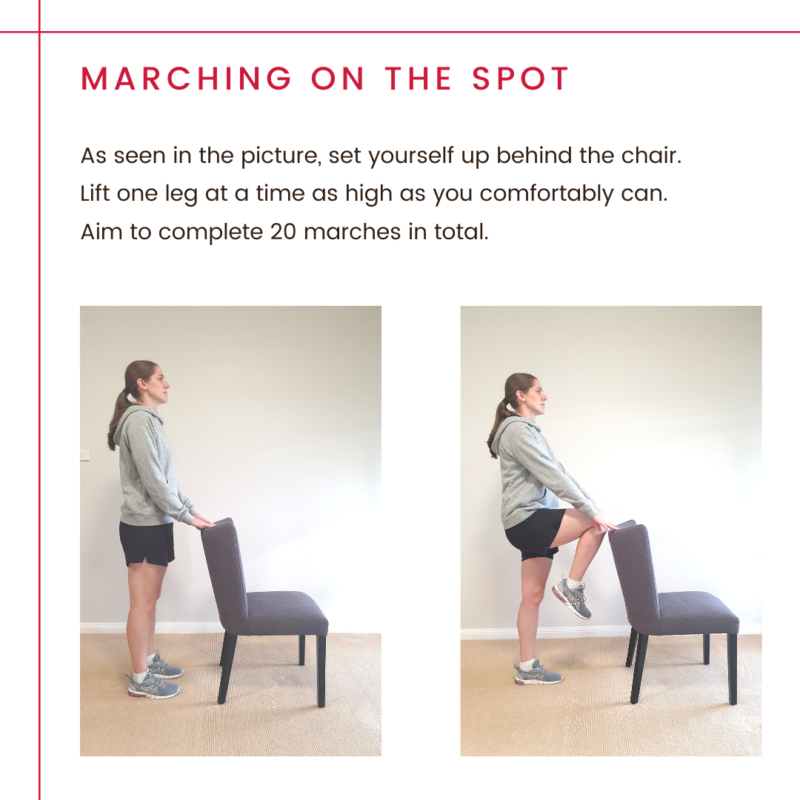 2. 
You may wish to face the chair for this one or set up like the picture.
3.
TIP – the higher the chair, the easier the exercise.
4.
5.
Try and complete an exercise session at least once daily with an aim to progress to twice daily sessions before surgery.
You will find your recovery from surgery a lot easier if you maintain consistency with your exercises, so don't delay! Physiotherapy post-hip surgery will also greatly benefit your recovery.
Get simple, real-time advice and talk with a TPC Physiotherapist today. Easy and affordable online consultation sessions are available here now.
We're here to keep seniors mobile, safe and happy!
Article written by Kate Harvey